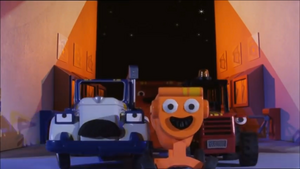 Several unknown machines appeared in Race to the Finish, deleted scenes from Snowed Under and When Bob Became A Builder. These machines resemble modified/repainted versions of the other characters (such as Scoop, Dizzy, Lofty, Muck, Dodger, Benny and Sumsy). The Scoop-like ones are the most common. When Grabber was going to win the race, the Dizzy-like machine sadly watched Grabber leave. They were in the relay race, and are usually seen participating in games or races. Lofty appears to be somewhat afraid of the Benny-like machine, due to the look on his face when it was starting its engine.
Machines repainted
Gallery
Ad blocker interference detected!
Wikia is a free-to-use site that makes money from advertising. We have a modified experience for viewers using ad blockers

Wikia is not accessible if you've made further modifications. Remove the custom ad blocker rule(s) and the page will load as expected.