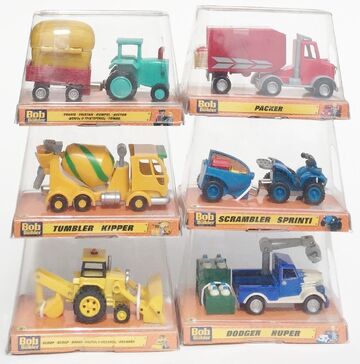 Take Along was a multi-franchise die-cast toyline made by Learning Curve, whose scope included Bob the Builder vehicles and play sets. It is also known for having included similar toylines based on "Thomas & Friends", "Dora the Explorer" and "SpongeBob SquarePants".
The models in this range used magnets to allow them to haul trailers and pick up loads.
Trivia
The dirt in Muck's dumper is not removable.
Travis' model has no painted grille.
Gallery
Ad blocker interference detected!
Wikia is a free-to-use site that makes money from advertising. We have a modified experience for viewers using ad blockers

Wikia is not accessible if you've made further modifications. Remove the custom ad blocker rule(s) and the page will load as expected.