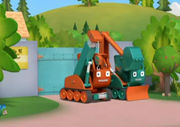 The supplies yard appears in Ready, Steady, Build!. It is owned by Grabber and Gripper.
Appearance
It's basically, a green gate with unused building supplies. And it has a sign which is hard to read.
Members
Gripper and Grabber work there. They guard it and give the team whatever they need to build something. They even have a conversation with the team as well.
Trivia