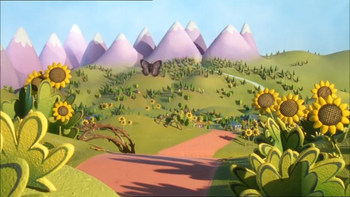 Sunflower Valley is the main setting of Project: Build It, and was first seen in the episode Bob's Big Plan. This is where Bob and his brother Tom used to camp there when they were younger. A competition was held to design a new town in the valley, which Bob won. Shortly after, he and the team moved from Bobsville to Sunflower Valley to begin building the new town. They stayed here until the beginning of Ready, Steady, Build!, though Sunflower Valley was sometimes seen.
Residents
Bob
Wendy
Scoop
Muck
Roley
Lofty
Dizzy
Scrambler
Meg
Farmer Pickles
Travis
Dodger
Packer
Sumsy
Piper
Tumbler
Flex
Mr. Bently
Mrs. Bently
Benny
Dodger
Marjorie
Mr. Salbintini
Mrs. Salbintini
Sunny
Saffron
Characters that didn't moved into Sunflower Valley
Mrs. Potts
Mrs. Broadbent
Mrs. Percival
Fin
Mr. Fothergill
Mr. Dixon
Squawk
Lennie Lazenby
Mr. Ellis
Jenny
Hamish
Bunty Ferguson
J.J.
Molly
Skip
Trix
David Dixon
Mr. Steven
Pam Goody
Humpty
Robert
Dorothy
Florence Mountfitchet
Ad blocker interference detected!
Wikia is a free-to-use site that makes money from advertising. We have a modified experience for viewers using ad blockers

Wikia is not accessible if you've made further modifications. Remove the custom ad blocker rule(s) and the page will load as expected.