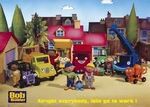 The eighth season premiered in the UK between September 17 to December 10, 2002 on BBC and was re-shown on CBeebies. In the US, the eighth season premiered between January 8 to March 26, 2005 on PBS and was re-shown on Sprout.
Episodes
Screenshot


Episode
Number

UK title (top)
US title (bottom)

Written by

Original air date

92

Bob the Photographer

Carter Crocker

9/17/2002

Bob tries to take some pictures of the town for a competition, but Spud goes around taking pictures when Bob leaves the camera on the wall at Farmer Pickles' Field when he has to help fix the leak in the wall inside the school house.

93

Mr. Bentley's Trains

Sarah Ball

9/24/2002

Bob and the gang build a model railway that will be a surprise for Mr. Bentley.

94

Wendy's Big Night Out

Mark Zaslove

10/1/2002

Wendy goes out for a night in the town.

95

Racing Muck

James Henry

10/8/2002

Muck suddenly goes in a racing mood but she gets advice from Skip and Trix.

96

Mr. Beasley's Noisy Pipes

Peter Corey

10/15/2002

Mr. Beasley mistakes the noise of his old pipes for a mole stuck under his floorboards which gives him anxiety.

97

Lofty's Jungle Fun

Julie Jones

10/22/2002

Lofty imagines what it would be like to be in the jungle.

98

Ballroom Bob

Phil Walker

10/29/2002

Bob gets some secret dance lessons from Mrs. Percival, but he realizes that he can't dance the salsa until an outdoor dance floor is built.

99

Molly's Fashion Show

Lee Price

11/5/2002

Molly hosts a fashion show, but it then goes wrong.

100

Spud and the Doves

Peter Corey

11/12/2002

Spud gets some trouble with doves.

101

First Aid Molly

Morgan Kempner

11/19/2002

Molly takes a first aid job at wanting to be a doctor.

102

Mr. Bentley: Dog Sitter

Jimmy Hibbert

11/26/2002

Mr. Bentley is dog sitting, but the dog escapes.

103

Travis Gets Lucky

Diane Redmond

12/3/2002

Travis feels as if he needs his lucky horseshoe to plow the fields. However, when he loses it, he finds that he can do his jobs without any lucky horseshoe.

104

Scruffty On Guard

Glenn Dakin

12/10/2002

Farmer Pickles has a new family of pigs delivered to his farm, so Bob must build a new home for them.
Specials
Screenshot


Special
Number

UK title (top)
US title (bottom)

Written by

Original air date

#2

"Bob the Builder: The Live Show"

Sarah Ball

10/7/2002

The episodes of Bob the Builder comes to live. (Filmed At The SSE Arena, Wembley.)
Characters
Characters Introduced
Trivia
Source