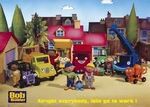 The seventh season premiered in the UK between January 21 to April 15, 2002 on BBC and was re-shown on CBeebies. In the US, the seventh season premiered in early 2003 on Nick Jr and was re-shown on Noggin, PBS and Sprout.
Episodes
Screenshot


Episode
Number

UK title (top)
US title (bottom)

Written by

Original air date

79

"Mr. Beasley's New Friends"

Julie Jones

1/21/2002

Mr. Beasley makes some new friends when he is asked to take care of Mr. Dixon's pigeons, until they fly away when he accidentally leaves the door of the pigeon coop open.

80

"Spud the Pilot"

Simon Jowett

1/28/2002

J.J. loses his remote control airplane. Spud finds it and becomes a pilot, but looses control over it.

81

"Trix and the Otters"

Lee Price

2/4/2002

Molly sees a family of otters. Trix decides to watch them also, but then they see a big shiny machine. Muck devises a good way to watch them.

82

"Speedy Skip"

Chris Trengove

2/11/2002

Bob builds Mr. Beasley a new shed while Skip unknowledgeably takes J.J.'s old chest with important papers after Molly swaps the chest with a nicer one which makes the gang race after him.

83

"Mr. Ellis' Art Exhibition"

Diane Redmond

2/18/2002

Mr. Ellis' new exhibition gets ruined. Everything has to be done before something gets worse.

84

"Bob and the Badgers"

Sarah Ball

2/25/2002

Farmer Pickles needs a fence built to keep the rabbits off his cabbages. But this also blocks the badgers' path to the stream.

85

"Bob and the Goalie"

Glenn Dakin

3/4/2002

Bob's gang is building an exercise park which Mr. Dixon's brother, David Dixon, will open. Bob and Spud think they are no good at soccer.

86

"Dizzy Goes Camping"

Phil Walker

3/11/2002

Dizzy goes out camping with Muck at Farmer Pickles' Farm for a night when Wendy and Jenny go on vacation.

87

"Pilchard's Pets"

Jimmy Hibbert

3/18/2002

Pilchard meets some tiny creatures and decides to treat them like pets when they escape.

88

"Snowman Scoop"

James Henry

3/25/2002

Scoop wants to enter the snowman competition, but he needs to fix a burst pipe outside Mr. Sabatini's house. The noses for the snowmen start disappearing.

89

"Lofty's Long Load"

Guy Halifax

4/1/2002

Bob is building a through-lounge for Mr. and Mrs. Bentley. Lofty carries the long metal girder. Dizzy and Trix decide to have a race and in the process the girder damages the sides of the bridge.

90

"Hamish's New Home"

Simon Jowett

4/8/2002

Mr Fothergill has a nasty case of dry rot, so Bob and crew will have to use chemicals to fix it. Later, Hamish gets a new home at J.J.'s when Mr. Fothergill finds out he's allergic to him.

91

"Dizzy the Sheepdog"

Diane Redmond

4/15/2002

While Bob and the team build a sheep barn for Farmer Pickles, Dizzy tries to help out by acting like a sheepdog.
Characters
Characters Introduced
Maisy and Daisy (Mr. Beasley's New Friends)
Badgers (Bob and the Badgers)
David Dixon (Bob And The Goalie)
Charlie the Chincilla (Pilchard's Pets)
Trivia
This season marks the first and last of several things:

First appearances of Maisy and Daisy, the Otters, the Badgers, David Dixon and Charlie the Chincilla.
First season to premier on CBeebies starting with Speedy Skip.
First season not to feature Bob's Yard in every episode.
Last season to be premier episodes before the launch of the CBeebies channel. Although, the series did continue to air on the main BBC channel until the 2010's.
Last season to premier on Nick Jr. and to be re-shown on Noggin in the US.
Last season to to feature shorts in between episodes until Season 10 for US broadcasts.