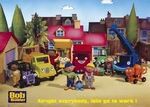 The sixth season premiered in the UK between October 6 to December 29, 2001 on BBC and was re-shown on CBeebies. In the US, the sixth season premiered between January 3 to February 21, 2003 on Nick Jr and was re-shown on Noggin, PBS and Sprout.
Episodes
Screenshot


Episode
Number

UK title (top)
US title (bottom)

Written by

Original air date

66

"Bob's Pizza"

Ian Carney

10/6/2001

Bob and Scoop deliver pizzas for Mr. Sabatini while Wendy and the rest of the team build a cycling lane.

67

"Bob's Metal Detector"

Ian Carney

10/13/2001

There is great excitement at Bob's yard when his new metal detector is delivered and later uses it to look for treasure after fixing Farmer Pickles' pipes.

68

"Mr. Beasley's DIY Diaster"

Chris Trengove

10/20/2001

Bob is given the job of building a tool shed for Mr. Beasley, but gets called to an urgent job so hapless Mr. Beasley takes matters into his own hands.

69

"Wendy's Removal Service"
"Wendy's Moving Company"

Simon Jowett

10/27/2001

When the removal men lets them down, Mrs Bentley enlists the help of Wendy and the machines.

70

"Lofty and the Rabbits"

Ruth Estevez

11/3/2001

During a demolition project, Lofty discovers some rabbits. Bob and the team have to catch the rabbits and put them into a special pen so they won't get hurt.

71

"Lofty and the Giant Carrot"

Jimmy Hibbert

11/10/2001

Mr. Ellis's white rabbit goes missing, so Spud tries to lure it back by attaching Farmer Pickle's giant carrot to Lofty's crane.

72

"Bob's Egg and Spoon Race"

Diane Redmond

11/17/2001

The town is practicing for an egg and spoon race. Spud has problems trying to keep the egg on the spoon, so he cheats by using some of Bob's putty.

73

"Trix's Tiles"

Peter Corey

11/24/2001

Bob is placing red tiles on a roof, but then a mix-up at JJ's yard causes Wendy to put green tiles on the other side of the roof.

74

"Mr. Sabatini's Smashing Day"

Lee Pressman

12/1/2001

Mr. Sabatini gets a new Soccer ball, but he accidentally kicks it through his shop window. J.J. and Bob go to replace it with a new pane.

75

"Roley to the Rescue"

James Henry

12/8/2001

Bird gets trapped in Mrs Potts' chimney with a baby bird who has been separated from its mother during a storm.

76

"Spud's Big Splash"

Polly Churchill

12/15/2001

Spud jumps into a puddle and the splash ruins Bob's paint job.

77

"Spud the Musketeer"

Julie Jones

12/22/2001

After Spud sees a poster for the school play, he thinks he would like to be a musketeer. He decides to use a fence post as a sword, but when he does, all the sheep escape.

78

"Wendy's Magic Birthday"

Guy Halifax

12/29/2001

It's Wendy's Birthday, but she does not want any fuss. Bob organizes a magic Birthday show for her instead.
Specials
Screenshot


Special
Number

UK title (top)
US title (bottom)

Written by

Original air date

#1

"A Christmas To Remember"

Jimmy Hibbert

10/22/2001

Bob and his friends have their work cut out to prepare for the town's annual Christmas concert and Bob's twin brother Tom is coming for christmas. But when Tom misses his ferry it's up to Wendy to save the day.
Characters
Characters Introduced
Introduced in A Christmas To Remember
Trivia