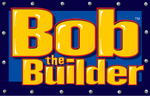 The fifth season premiered in the UK between January 6 to March 31, 2001 on BBC and was re-shown on CBeebies. In the US, the fifth season premiered between December 10, 2001 to January 27, 2003 on Nick Jr and was re-shown on Noggin, PBS and Sprout.
Episodes
Screenshot


Episode
Number

UK title (top)
US title (bottom)

Written by

Original air date

53

"Scruffty's Big Dig"

Diane Redmond

1/6/2001

Bob, Wendy and the Machines are going to Mrs. Broadbent's House who had a big hole in the wall but, Scruffty gets stuck in the rabbit hole, that Lofty needs your help to get out of the rabbit hole.

54

"Inspector Spud"

Simon Jowett

1/13/2001

Mr. Bentley inspects a pipe, he gets soaked. Spud tries to take over, but he has no qualifications.

55

"Cock-A-Doodle Spud"

Diane Redmond

1/20/2001

Farmer Pickles' hen has abandoned her eggs, so Bob is building a hen coop. Spud decides to look after the chicks.

56

"Wendy's Surprise Party"

Ruth Estevez

1/27/2001

Wendy is inviting the whole town for a barbecue party for her sister, Jenny. But the machines have just laid a garden path and they are too tired to come.

57

"Skateboard Spud"

Ross Hastings

2/3/2001

Using an old ironing board, Spud makes a skateboard and rides it all over town. Spud Bob has just put up some traffic calming measures. When Spud comes across Bob, Dizzy, Roley and Scoop, he crashes into the dumpster. His skateboard was finally lost and broken.

58

"Muck's Monster"

Ben Randall

2/10/2001

Muck and Dizzy are clearing a blocked drain. Muck gets spooked by gurgling noises and she is convinced it is a monster.

59

"Spud the Dragon"

Ian Carney

2/17/2001

Mrs. Percival is preparing costumes for the school play. Spud borrows the dragon costume and pretends to be a magic dragon when he sees Muck.

60

"Pilchard Steals the Show"

Jimmy Hibbert

2/24/2001

Scoop notices that Farmer Pickles has entered Scruffty into the dog show, which determines him to also enter Pilchard, even though she is a cat.

61

"Bob's Hide"

James Henry

3/3/2001

Bob's gang are making a bird hide at the nature reserve and also want to get a glimpse of the rare Grebe Warbler. But Spud appears instead dressed like a bird.

62

"Bob's Auntie"

Jimmy Hibbert

3/10/2001

Auntie Dora is coming to visit and she is a stickler for tidiness. Already the yard is in a complete mess and the machines try to clean it up, but they only make it worse.

63

"Bob and the Big Freeze"

Simon Jowett

3/17/2001

Scoop and Wendy try to clear the roads, but they bumped into the porcupine crossing. Spud tries to skate on the frozen duck pond, but the ice is not thick enough. Dizzy sends Bob and Lofty out to rescue him.

64

"Clumsy Roley"

Ian Carney

3/24/2001

Roley almost crushes Bob's toolbox. This causes anxiety from him to think he is always clumsy. This always makes him more accident-prone.

65

"Eskimo Bob"
"Bob of the North"

Chris Trengove

3/31/2001

It is winter in the town. Bob wears a big parka to look like an Alaskan Eskimo. Wendy's sister, Jenny, visits after a ski trip.
Characters
Characters Introduced
Jenny (Wendy's Surprise Party) (In physical appearance)
Doris Ellis (Pilchard's Steals the Show)
Hamish (Clumsy Roley)
Trivia
This was the first season to feature Jenny in physical appearance as before she was only mentioned.
This was the first season to reveal Mr. Fothergill's surname as before he was just known as the computer repair man when he originally appeared in "Bob's Day Off" (Season 3).
This was the first season to air in the UK when the series was introduced to the US.