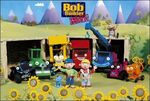 The fourteenth season premiered in the UK between March 2 to May 31, 2007 on Cbeebies. In the US, the fourteenth season premiered between September 8 to October 13, 2007 on PBS and debuted on Sprout in 2008.
Episodes
Screenshot

Episode
Number

UK title (top)
US title (bottom)

Written by

Original air date

171

"Mr. Bentley's Big Parade"

Marc Seal

3/2/2007

Mr. Bentley is organising a special parade to announce Sunflower Valley's very first mayor.

172

"Scrambler the Goat Herder"

David Ingham

3/4/2007

Scrambler is given the job of bringing Giddy the goat down from Snowcap mountain.

173

"Packer's Big Delivery"

Simon Nicholson

3/7/2007

When Packer the delivery truck sets off to collect goat's milk from Meg MacDonald, he gets stuck on a narrow mountain ridge and it's up to Scrambler to rescue him.

174

"Spud the Woodsman"

Louise Kramskoy

3/20/2007

Spud wants to become a woodsman like Chip Chipper, but when he causes chaos at the building site he decides to stick with being a scarecrow.

175

"Muck's Mootastic Dairy"

Laura Beaumont
Paul Larson

3/26/2007

Bob is building a new dairy and Muck is entrusted with looking after the cows. When the cows cause chaos and knock down the half-built dairy, everyone helps to rebuild it so the cows can be milked before sunset arrives.

176

"Roley the Green Cat"

Marc Seal

3/31/2007

Roley is mystified as to why Pilchard doesn't want to play with him any more, until he discovers her with a litter of kittens, and is proud to become Uncle Roley.

177

"Put-It-Together Bob"

Simon Nicholson

4/5/2007

When Bob tries to install machinery at Meg's milk bottling plant, he realises it is going to be harder than he first thought - especially when Buttercup the cow eats his plans!

178

"Dodger the Milk Truck"

David Ingham

4/23/2007

Meg's new milk delivery truck thinks he is not wanted in Sunflower Valley.

179

"The Three Musketrucks"

Laura Beaumont
Paul Larson

5/3/2007

Scrambler, Packer, and Dodger make a pact to deliver all their cargo and overcome great obstacles to make it happen.

180

"Scoop Slips Up"

Louise Kramskoy

5/17/2007

Bob is building some salt pans by the beach and accidentally breaks the sluice gates. When Scoop slips on some seaweed, he thinks he actually broke the gates, and goes out of his way to stop Bob finding out.

181

"Dodger's Dairy Disaster"

Laura Beaumont
Paul Larson

5/23/2007

Dodger is sent to collect ingredients for Meg MacDonald's new cheese, but causes trouble.

182

"Bob's Beach Hut"

Laura Beaumont
Paul Larson

5/31/2007

Bob decides to build a beach hut as a surprise for his mother and father.
Trivia
This season marks the last of a few things: