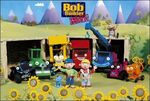 The thirteenth season premiered in the UK between July 6 to July 26, 2006 on Cbeebies. In the US, the thirteenth season premiered between November 4 to December 2, 2006 on PBS and debuted on Sprout in 2007.
Episodes
Screenshot

Episode
Number

UK title (top)
US title (bottom)

Written by

Original air date

161

"Spud Rushes It"

Marc Seal

7/6/2006

Bob and the machines make a watering system for Farmer Pickles' new orchard.

162

"Scrambler's Seaweed Delivery"

Simon Nicholson

7/7/2006

When Bob builds a seaweed farm for Annie Pickles, Scrambler volunteers to help collect the seaweed from the beach and bring it to the garden.

163

"Massive Muck"

Marc Seal

7/8/2006

The team starts work on Annie Pickles' new seafront house, but Muck does not concentrate on the task in hand.

164

"Roley's Apple Press"

Marc Seal

7/9/2006

Roley wants to help with the apple harvest, but is not much use, so Bob finds something he can do much better.

165

"Travis's Giddy Day"

Laura Beaumont
Paul Larson

7/10/2006

The machines build a goat run for Farmer Pickles' newest arrival.

166

"Muck's Drying Tunnel"

Simon Nicholson

7/12/2006

Bob builds a drying tunnel for Annie's seaweed and a rotary washing line for Mr. Beasley.

167

"Benny's Jungle Trouble"

Louise Kramskoy

7/21/2006

Benny gets the wrong idea about a conversation he overheard and heads off into marshland, looking for jungle animals.

168

"Dizzy the Walking Bus"

Dave Ingham

7/24/2006

Dizzy tries to help the children get to school, but new road signs confuse them.

169

"Packer's First Day"

Laura Beaumont
Paul Larson

7/25/2006

Packer arrives in Sunflower Valley, but he finds it very difficult to concentrate on the task at hand.

170

"The Bob House"

Simon Nicholson

7/26/2006

Bob designs a house with the help of his father, while Mr. and Mrs. Bentley conduct a survey.
Characters
Characters introduced