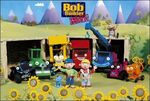 The eleventh season premiered in the UK in between June 1 to June 24, 2005 on Cbeebies. In the US, the eleventh season premiered between October 29 to December 3, 2005 on PBS and debuted on Sprout in early 2007.
Episodes
Screenshot


Episode
Number

UK title (top)
US title (bottom)

Written by

Original air date

133

"Scrambler in the Doghouse"

Marc Seal

6/1/2005

Bob makes Scruffty a unique kennel using recycled scrap after Scrambler smashes all of the building materials.

134

"Benny's Important Job"

Rachel Murrell
Marc Seal

6/2/2005

Bob builds the Bentleys' new home into the side of a hill, and Benny is determined to help, but keeping up with the big diggers is harder than expected.

135

"Put-It-Together Spud"

Simon Nicholson
(Storyline by Marc Seal)

6/6/2005

Spud helps Bob put together the machinery for Farmer Pickles' sunflower oil factory.

136

"Roley's Round-Up"

Marc Seal

6/7/2005

Roley finds a way to keep the Birdie and her chicks cool in the storeroom.

137

"Dizzy the Detective"

Dave Ingham

6/8/2005

A millstone goes missing, so Dizzy and Spud try to track it down by following a trail of clues.

138

"Two-Jobs Travis"

Simon Nicholson

6/9/2005

Travis has a lot of work on his hands when he tries to do two jobs at once.

139

"Scrambler and the Colorful Cave"

Marc Seal

6/10/2005

Scrambler stumbles across a strange cave while helping an expert on the Stone Age to decorate his house.

140

"Spud's Bumper Harvest"

Simon Nicholson

6/13/2005

Spud causes chaos when he stores a bumper crop of sunflowers in Bob's mobile home.

141

"Muck's Convoy"

Dave Ingham

6/14/2005

Muck is told to lead a convoy to the mill, but she cannot remember Bob's directions to get there.

142

"While Bob's Away, Robert Will Play"

Marc Seal

6/17/2005

Robert turns Bob's old rubble chute into a children's playground, with a little help from some squirrels.

143

"Bob's Three Jobs"

Marc Seal

6/21/2005

Bob plans to go bird-watching with his dad, but has three very important jobs to finish first; which take longer than expected.

144

"Scoop Knows It All"

Simon Nicholson

6/24/2005

Farmer Pickles is ready to open his sunflower oil business, but needs a storage depot. A new forklift truck joins the team, and Scoop shows her round the valley.
Specials
Screenshot


Special
Number

UK title (top)
US title (bottom)

Written by

Original air date

#5

"When Bob Became A Builder"

Jimmy Hibbert

12/31/2005

While building a new parking lot, picnic area, and play area at the Beach, Bob and the machines tell Benny and Scrambler the story of how Bob and his dad Robert built the building yard in Bobsville, and how the machine crew we all know and love got together.
Characters
Characters introduced