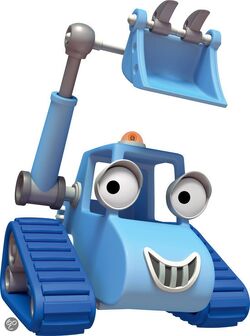 Scratch
Gender: Male
Basis: Skid-steer loader
Color: Light Blue
Owner: Bob
Voiced By:
Scratch is a 4 year-old small, blue skid-steer loader, whom is also the youngest of the team.
Appearence
Scratch greatly resembles Benny, except he's blue instead of magenta and doesn't have a back bucket
Personality
Scratch is childish and very naive. Scratch still has a lot to learn such as learning how to stand up for himself, asking for help, etc. Scratch loves to work and says he's a part of the team.
Gallery
Merchandise