{{template:Episode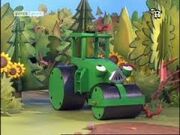 title: Roley's Flat Garden |series:07 |number:08 |pre = Lofty's Banana Tree |next = Super Splasher}}
Roley's Flat Garden is the eighth episode of the seventh season.
Plot
Roley helps Mr. Beasley decide to have the type of garden and it would be flat. Roley then realizes that the garden needs hills, valleys, and some shade from the trees.
Home Media Releases
US
Ad blocker interference detected!
Wikia is a free-to-use site that makes money from advertising. We have a modified experience for viewers using ad blockers

Wikia is not accessible if you've made further modifications. Remove the custom ad blocker rule(s) and the page will load as expected.