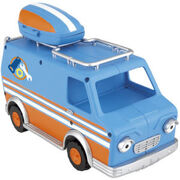 R.Vee
is a 30 year-old 1993 Chevrolet G20 work truck. R.Vee belongs to Robert, Bob's father. Robert has had him since he was a child. R.Vee has been his garage ever since. Until that very day.
Catchpharse
Amazing R.Vee, that's me!!!
Appearances
Ad blocker interference detected!
Wikia is a free-to-use site that makes money from advertising. We have a modified experience for viewers using ad blockers

Wikia is not accessible if you've made further modifications. Remove the custom ad blocker rule(s) and the page will load as expected.