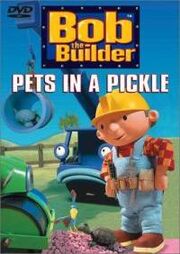 Pets in a Pickle is a US video that contains one first season episode, one second season episode, one third season episode, and one fourth season episode. It was distributed on VHS in 2001 and on DVD in 2003 by HIT Entertainment.
Episodes
Shorts
Trivia
This was the last VHS release by Lyrick Studios before completely folding into HiT Entertainment; The tape labels it as "A HiT Entertainment Company".
Goofs
The VHS and DVD release doesn't list the shorts.
Gallery