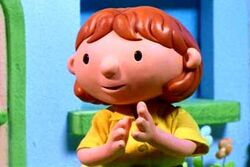 Mrs. Potts
Gender: Female
Species: Human
Race: Caucasian
Voiced By:
Mrs. Potts is a Bobsville resident and is a friend of the Can-do Crew. She has a tortoise named Tommy.
Bio
TBA
Personality
TBA
Description
TBA
Appearances
Trivia
She has Mrs. in her title even though she doesn't appear to be married.
Ad blocker interference detected!
Wikia is a free-to-use site that makes money from advertising. We have a modified experience for viewers using ad blockers

Wikia is not accessible if you've made further modifications. Remove the custom ad blocker rule(s) and the page will load as expected.