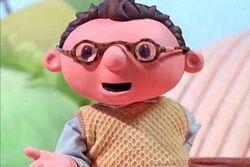 Mr. Beasley
Gender: Male
Species: Human
Race: Caucasian
Voiced By:
Mr. Beasley is a Bobsville resident and a frequent customer. He is a friend and neighbor to the Can-do Crew. He often finds jobs for Bob to do, like building a pigeon loft, repairing his shelves or building a new conservatory.
Bio
TBA
Personality
TBA
Description
TBA
Appearances
Trivia
He has not been yet seen in CGI form as he departed from the show shortly before Ready, Steady, Build! debuted and also has not yet been seen in the 2015 series.
Ad blocker interference detected!
Wikia is a free-to-use site that makes money from advertising. We have a modified experience for viewers using ad blockers

Wikia is not accessible if you've made further modifications. Remove the custom ad blocker rule(s) and the page will load as expected.