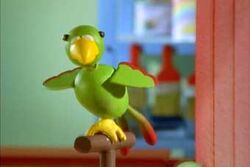 Hamish
Gender: Male
Species: Parrot
Color(s):

Lime (feathers)

Red (tail end and wing ends)

Yellow (beak and feet)

Black (eyes)


Owner(s):
Hamish was formerly Mr. Fothergill's parrot. He is very noisy and loves to repeat what he hears people say. Sadly, Mr. Fothergill discovered he was allergic to Hamish. Hamish found a new home with J.J. and Molly, who love him very much and find him helpful in the building supply yard.
He only appeared in Seasons 5-9 of the Original Series because the building supply yard gang never reappeared in Project: Build It nor Ready, Steady, Build!.
Appearences
Original Series
Quotes
"Very clever parrot!"
"Look out Trix!"
"Night Molly. Night Dad. Night Skip. Night Trix."
"Ooooh! Night Hamish!"
"Go to J.J.'s!"
"Love it!"
"Foot through it!"
"Well I never!"
"Allergy any good?"
"Like you, Dad!"
Ad blocker interference detected!
Wikia is a free-to-use site that makes money from advertising. We have a modified experience for viewers using ad blockers

Wikia is not accessible if you've made further modifications. Remove the custom ad blocker rule(s) and the page will load as expected.