"Dodger Delivers!"
— Catchphrase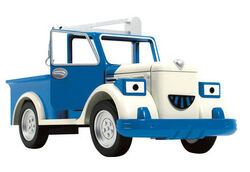 Dodger
Gender: Male
Basis: Delivery truck
Color: White
Owner: Meg
Dodger is a 11 year-old blue and white milk truck that vaguely resembles a 1930s Ford truck. He is owned by Meg and is used to deliver milk. He has a crane with a grabber that lifts the milk. His horn makes honking sounds that the rest of the team find funny.
Personality
Dodger is friendly and enjoys making people and machines laugh. In Radio Bob, he was shown to be very good telling jokes. He also frequently honks his horn and is best friends with Scrambler and Packer.
Trivia
Jackaroo's model was most likely recycled to produce Dodger.
Gallery
Merchandise
Ad blocker interference detected!
Wikia is a free-to-use site that makes money from advertising. We have a modified experience for viewers using ad blockers

Wikia is not accessible if you've made further modifications. Remove the custom ad blocker rule(s) and the page will load as expected.