"Brilliant!"
— Catchphrase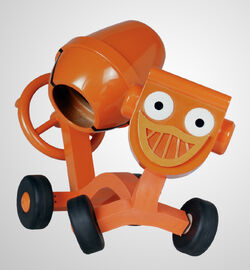 Dizzy
Gender: Female (UK/US) Male (Romania)
Basis: Tilting-drum concrete mixer
Color: Orange
Owner: Bob
Voiced By:

Kate Harbour (UK; 1998-2012)
Maria Darling (US; 2001-2007)
Lorelei King (US; 2007-2012)
Sarah Hadland (UK; 2015-present)
Claire Corlett (US; 2015-present)
Rozi Rabinowitz (Israel, original dub)
Tamar Halevi (Israel, JimJam dub)
Dizzy is an orange tilting-drum concrete mixer. Dizzy is portrayed as one of the youngest vehicles in Bob's building yard. She is eager, curious, and easily excitable.
Bio
Dizzy is a smart, witty, and eager concrete mixer. She can be a bit of a know-it-all, spinning her mouth as fast as her drum. This sometimes leads to mix-ups, but her energy and enthusiasm make her an integral part of the team.
Personality
Dizzy is energetic, curious, cheerful, and a bit of a know-it-all, like Roley she seems to enjoy music but only listens to music. In the original series, she has the ability to stand on her rear tires similar to how dogs can stand on their hind legs. She does have a soft spot for friends and she is always ready to lend a helping hand.
Appearance
Dizzy is a small, orange tilting-drum concrete mixer. She has an orange mouth and big, round eyes, and small tires, which she is able to clap while happy. She also has a black stripe across her mixer drum.
Appearance
Season 10 - Bob's Big Plan, Bob's Fresh Start, Lofty's Shelter, Dizzy and the Talkie Talkie, Scoop's Recruit, Where's Robert?, Wendy's Welcome, Roley's New Friend, Two Scoops, Benny's Back!, Spud's Straw Surprise, Off-Road Scrambler, Meet Marjorie, Muck's Mud Hut, Wendy's Party Plan and When Bob Became A Builder
Season 14
Season 15 - Clean As A Whistle Bristle
Season 16 - Tumbler and the Skate Park

Season 1 - Scratch's Hidden Treasures, Scrambler's Best Idea, Scoop the Artist, High Tide For Lofty, Roley's Rovers, Start from Scratch, Night Time Scratch, Lofty and the Monster, Lofty's Helpful Day, Dizzy In Charge, Scoop's Sea Rescue, Scratch's Star Turn, Pineapple Scratch, Scrambler's Stage Surprise, Wendy's Birthday Surprise, Scratch Goes Solo, Dizzy and the Wheelies, Muck's Beach Tower, Here Comes Muck and Scrambler Gets Clean
Season 2 - Whizzy Dizzy, Stage Struck Dizzy, Dizzy Finds a Pirate
Trivia
Dizzy is able to use her wheels like hands or feet in the original series.
She had a walkman which was later removed in Project: Build It, though it reappeared in When Bob Became A Builder.
Dizzy's original movement sound is a simple squeaking sound effect.
Dizzy can also use her wheels to pick things up and throw them, as shown in Mucky Muck.
Dizzy was the youngest machine in the original series before Trix was introduced.
Gallery
Merchandise Gallery
Ad blocker interference detected!
Wikia is a free-to-use site that makes money from advertising. We have a modified experience for viewers using ad blockers

Wikia is not accessible if you've made further modifications. Remove the custom ad blocker rule(s) and the page will load as expected.