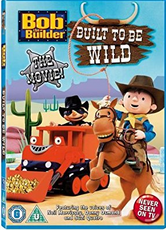 Built To Be Wild was a Bob the Builder extended one hour special, which was released in September 2006.
Plot
Bob and the can do crew go on vacation in the wild west.
Characters
Trivia
It was released on a trailer at the end of the DVD, "Fireman Sam Fun Run" and at the beginning of the DVD, "Bob the Builder Hold on to Your Hard Hats".
This special features Muck And Spud as the main characters
The scene where the bridge breaks underneath Spud is reminiscent of the 1984 movie, "Indiana Jones and the Temple of Doom'.
In one scene, Spud exclaims 'Whip-crack away!' This is a reference to the musical, "Calamity Jane".
The opening number, "Cowboy Holiday" is a rewritten version of Sir Cliff Richard's popular song, "Summer Holiday", with the lyrics altered to fit the special's narrative.
Goofs
Even though holiday is a UK Term they say it in both versions.