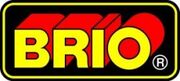 Brio is a toy company founded in 1884, best known in the wooden railway market. It has produced at least two different ranges of Bob the Builder toys from 2001 to 2003.
Railway compatible range
Characters
Vehicles
Sets
Bob Starter Set
Scoop and Lofty Set
Bob's House Set
Deluxe Set
Accessories
Bricklayer Accessories
Farmer Pickles' Barn
Building Accessories (Stop Light, Warning Signs and Tires)
Lofty in the Shed
Scoop's Snowdrift Set
Broken Bridge
Builder System
Vehicles
Scoop
Muck
Dizzy
Roley
Lofty
Travis
Trivia
Scoop's railway compatible models are missing his rear actor, making him a front loader.
Muck's railway compatible model has six normal wheels, with no representation of his/her caterpillar tracks. The Builder System model is one of the only merchandise forms of Muck to have actual tracks.
On Roley's railway compatible model, the middle part of his front roller is painted on, and he instead has two normal wheels on both sides.
The Builder System models are more screen accurate than the railway compatible ones.
Gallery