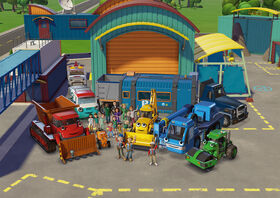 In November of 2014, it was announced a reboot of the Bob the Builder franchise would premier on UK's Channel 5 Milkshake! on September 1st, 2015. Later on, the official Bob the Builder US YouTube channel confirmed the show would come to the United States on PBS Kids in November 2015.
About
The characters were redesigned and their voices recast. The redesigns received negative criticism from fans of the original show, but the episodes gained more positive reception when released. It is currently unknown if any other characters from the Original Series, Project Build It or Ready, Steady, Build! will appear.
Mainframe Animation (a division of Rainmaker Entertainment) is the main animation studio for the series, while additional animation for online videos/inbetween shorts are produced by Brown Bag Films. Also, Muck is now male in both the US and the UK. The US dub is now done in Canada, and as a result, several notable Canadian voice actors (including Colin Murdock, Vincent Tong, Ian James Corlett, Richard Newman, and Lee Tockar) are involved in the series.
Settings
New characters included are Leo, Mayor Maria Madison, The Spring City Rockets, Curtis, Vet Tilly, Dash Lightning, Chef Tattie, Jenny Dobbs and new machines, Two-Tonne, Betsy, Alfred, Philip and Tiny.
Canonical Problems
This series is obviously not canon to the classic, as many fundamental features of the show, Such as the characters' personalities, catchphrases, and designs have changed. Furthermore, the voice actors, which had always been the same from the Original Series to Ready, Steady, Build! in the original British dub, are suddenly different. Some of the characters, including, Scoop and Wendy, seem to be younger then their classic counterparts.
The characters bear little resemblance to their stop-motion counterparts. Scoop is now the unofficial leader and is less mature. Lofty is no longer cowardly and does not say "Er" or "Uh" before his words. Roley does not have the same design as his classic counterpart, and Wendy is an electrician.
Farmer Pickles, Travis, Bird, and Spud do not appear in this reboot, further showing that it is non-canon to the Original Series. The series is set in a big city, Spring City, instead of the traditonal small village. However, Fixham from the Ready, Steady, Build! series is still featured. In the app "Build City" the classic series theme tune is played on instrumental.
Trivia
Many older fans dislike this series because it does not present the characters the way the Original Series had them.
The series has been subjected to multiple amounts of criticism from fans and Television critics (Mostly for the fact the simple designs were replaced with 'High Tech' and 'crude' designs).
First season released in the UK to not feature Neil Morrissey as Bob's voice.
Marc Silk returned to voice characters.
Reception
The series was met with negative reception from fans and critics due to the visual redesign and modernization. HiT Entertainment and Mattel have not officialy responded to this criticism.
Cast
USA
Kenneth Branagh as Bob (US)
Sandra Oh as Wendy (US)
Kevin Kline as Scoop (US)
Steve Zahn as Muck (US)
Joan Cusack as Dizzy (US)
Eijah Wood as Roley (US)
Cameron Diaz as Lofty (US)
Richard Newman as Two-Tonne (US)
Lee Tockar as Tiny (US)
Harvey Fierstein as Leo (US)
Iain Lauchlan as Chef Tattie (UK/US)
Danny John Jules as Curtis (UK/US)
Nicole Oliver as Mayor Maria Madison (US)
Terry Mynott as Philip (UK/US) and Tread (UK/US) (Season 2)
Matt Hill as Tread (US)
David Holt as Alfred (UK/US) (Season 1)
Lucy Montgomery as Jenny Dobbs (UK/US)
UK
Lee Ingleby as Bob (UK)
Joanne Froggatt as Wendy (UK)
Blake Harrison as Scoop (UK)
Steven Kynman as Lofty (UK) and Dash Lightning (UK)
Terry Mynott as Two-Tonne (UK), Tiny (UK), Alfred (UK/US) (Season 2) and Phillip (UK/US)
David Holt as Tread (UK) Alfred (UK/US) (Season 1)
Paul Panting as Muck (UK)
Jacob Scipio as Leo (UK)
Marcel McCalla as Roley (UK)
Iain Lauchlan as Chef Tattie (UK/US)
Danny John Jules as Curtis Curtis (UK/US)
Sarah Hadland as Dizzy (UK)
Lucy Montgomery as Mayor Maria Madison (UK) and Jenny Dobbs (UK/US)
See Also
Gallery
Source
Extra Links
This 2015 reboot has it's own wiki for content related to the reboot series.
Ad blocker interference detected!
Wikia is a free-to-use site that makes money from advertising. We have a modified experience for viewers using ad blockers

Wikia is not accessible if you've made further modifications. Remove the custom ad blocker rule(s) and the page will load as expected.