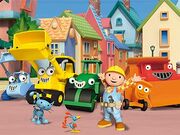 Ready, Steady, Build! is the third spin-off series. Benny, Sumsy, Bristle and Zoomer from the previous series do not appear in this series. Most of the characters from previous spin-offs return. The shorts are replaced with Bob's Jobs. A new character named Scratch, probably based on Benny, was added. He is currently the youngest of the team.
Unlike previous series, "Ready, Steady, Build!" is animated in full CGI, which allows larger and more complicated construction projects that would be too large or expensive for the model sets from the previous two series. The series still uses the original intro, but unlike the previous series, the intro uses clips from episodes instead of having special scenes produced. The machines now possess more human-like traits allowing them to be more flexible. The latest episode aired on June 10, 2012.
Setting
The series takes place in Fixham, a prehistorical city by the ocean and is similar to Bobsville. This series might not be canon to the Original Series or Project: Build It due to Bobsville or Sunflower Valley not being mentioned or referenced. It's also possible that Fixham Harbour is Bobsville reconnectedly renamed and most of the towns people from the stop-motion series do not appear.
Also none of the events from the stop-motion era are referenced aside from When Bob Became A Builder, which was referenced in the episode Dizzy In Charge, further showing this series might be non-canon to the stop-motion era.
Characters
The main cast appears and Scratch is added to the main cast.
Other Returning Characters:
A surfer named Brad Rad appears.
Gallery
Ad blocker interference detected!
Wikia is a free-to-use site that makes money from advertising. We have a modified experience for viewers using ad blockers

Wikia is not accessible if you've made further modifications. Remove the custom ad blocker rule(s) and the page will load as expected.