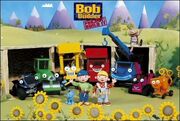 Bob the Builder: Project Build It is the first spin-off of Bob the Builder. This spin-off ran between 2005-2009 with being the second most popular series of the franchise. This spin-off is both praised and criticized by fans.
About
The main setting of the series is Sunflower Valley. Bobsville still appeared quite frequently though. Trix does not appear in the spin-off due to her model being repainted into the character Sumsy, who resembles Trix. Skip only appears in one episode because his model was refurbished into Packer.
Unlike the previous series, there are machines who either have unknown owners or owners that never got revealed. Bristle, Flex, Tumbler, Gripper, and Grabber are the following machines who don't seem to have owners. It's thought that Flex is owned by Mr. Bell but it's currently unknown if he really does own Flex. Benny and Zoomer appear from the special Snowed Under, who are under owned by Robert and Dot. Shorts were also included in this series.
Trivia
This is the only spin-off to pick up where the original series leaves off and also to be the only spin-off set in the same continuity as the original series.
Some of the US voices changed in this series but the UK cast remained the same. The new voices were criticized by some fans who grew up with the original US cast.
This series seemed to develop a habit of recycling older plots from previous episodes.
External Links
Ad blocker interference detected!
Wikia is a free-to-use site that makes money from advertising. We have a modified experience for viewers using ad blockers

Wikia is not accessible if you've made further modifications. Remove the custom ad blocker rule(s) and the page will load as expected.