"Unreal, banana peel!"
— Benny's Catchphrases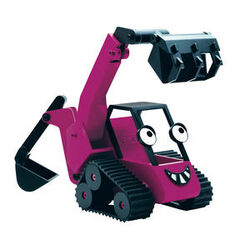 Benny
Benny is a small magenta skid-steer loader. Benny looks up to Scoop, and was first introduced in Snowed Under. Benny later became part of the main cast in Project: Build It, but didn't return in Ready, Steady, Build! as it seems he was replaced by Scratch.
Bio
Personality
Benny is very friendly. He gets most of his advice from Scoop. He calls Scoop "Big Banana" because he is big and yellow.
Livery
Benny is a magenta skid-steer loader and has a black and silver mouth.
Appearances
Specials:
Trivia
Benny has the ability to change eye size.
Benny is one of the few machines to have a human name.
Benny looks fairly similar to Scratch with a few differences, including a backhoe arm and grabber attachment, and a different color.
Ad blocker interference detected!
Wikia is a free-to-use site that makes money from advertising. We have a modified experience for viewers using ad blockers

Wikia is not accessible if you've made further modifications. Remove the custom ad blocker rule(s) and the page will load as expected.